December 7th, 2008
I was after parking on Sunday in the city.
Upon entry I was presented with: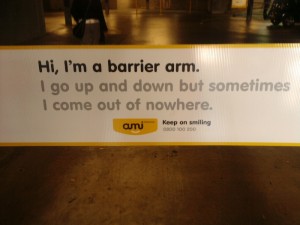 Then as we turned to go up a floor,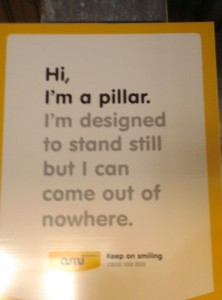 On the wall there was also: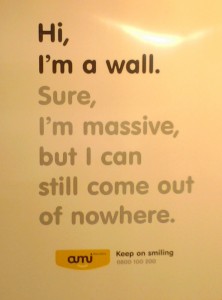 And so then with a smile on my face, I went off on my business.
Returning an hour or so later, I noticed this on the lift doors: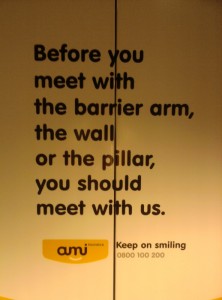 This is so well executed, once one person in the car had seen it, everyone else checked out the next one.
Finally upon exit there was another one on the barrier arm.
Great concept, it was interesting enough to make me smile and tell others.
Now that its been done once though, it's become disposable…. 
(but still neat huh?)
How can you take what worked here for your own campaign? can you make that into a business? maybe.
What made this work?
Located in high traffic area
No dilution or prior ads in this space
Target market, everyone that sees it is in a car (which is insurable)
Stress situation, slight stress as you drive in a parking building to not hit anyone or anything
Reinforcement: at the lift, upon exit
Funny, interesting, remarkable, worth commenting about
Can you take these elements away and apply them to your own spreading of ideas? give it a shot, who knows where it may end up.
Tags: am i smiling, ami, monday ideas post, new marketing