May 25th, 2010
First page of Ricardo Semler's book "The Seven Day Weekend".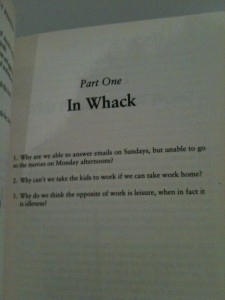 This has to be one of the best openings to a book I've ever read.
It reads:
1. Why are we able to answer emails on Sundays, but unable to go to the movies on Monday afternoons?
2. Why can't we take the kids to work if we can take work home?
3. Why do we think the opposite of work is leisure, when in fact it is idleness?
—
Nevertheless it has set a high bar.
—
If you haven't read it, grab a copy, also grab his first book Maverick it's incredible.
Tags: book, ricardo semler, seven day weekend