May 29th, 2021
Such a cheesy saying that. I thought I'd update on a few things have been tinkering with.
Rally Road
Rally Road is an app which lets you buy shares in collectible assets, like a Michael Jordan basketball card or a Aston Martin or a Rolex watch. Rally holds the assets in secure storage. Then every few months they open up trading windows so you can sell your shares or purchase others. There's some chat around how art and other collectibles outperform the S&P – but I'm more doing it for fun.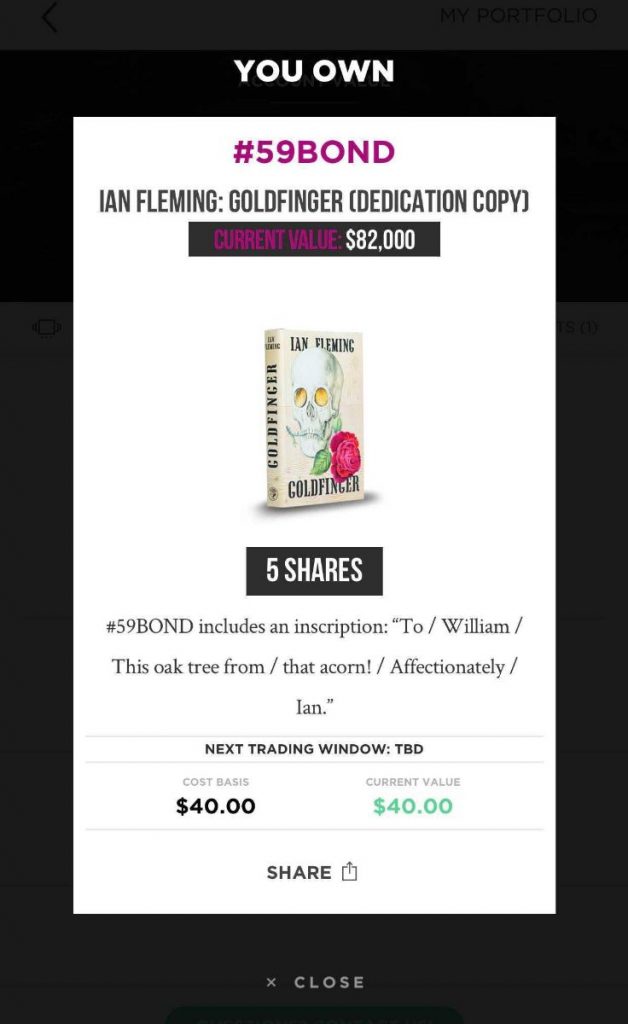 NBATopShot
This is basically digital basketball cards, with ownership validated on the blockchain. TopShot creates new 'moments' and drops them via regular pack drops. You can open your pack, or even leave it closed. Again, this has just been fun. I haven't had any major scores (yet!).
RobinHood $1 Shares
Or rather just buying $1 in a stock. Robinhood gives you a fraction of the stock. So one weekend I hurt my thumbs to go and buy $1 in each of the S&P 500. An easier thing would have been to spend $500 on SPY. It would have given me a proportional weighting. SPY weights on market cap, whereas I've just weighted on 1/500 in the index.
This means, I get a bunch of notifications like this: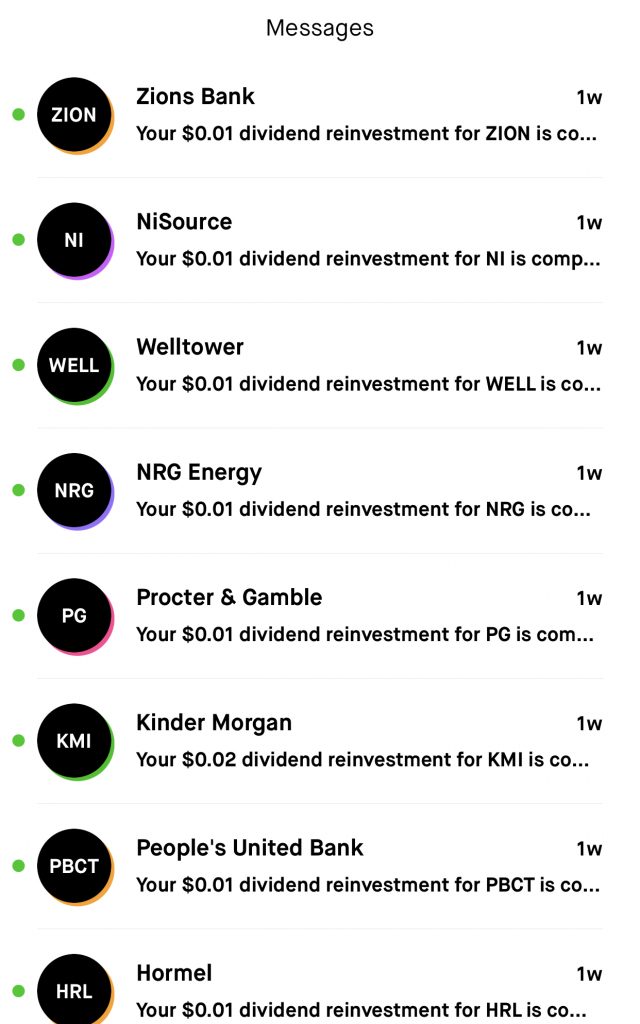 $0.01 dividend has been reinvested. I like this – as its a reminder that your stocks are always working for you. What if SPY or other ETFS gave you an activity feed of all their adjustments, dividend reinvestments. That would be neat and remind people of what's going on.
That is counter to the idea of passive investment (should sleep soundly without worrying about it) but I think it would remind people how hard their funds are working.
Reading
I re-read The Intelligent Investor last year and read Reminiscences of a Stock Market Operator. Both are great pairing. The Intelligent Investor is so dense, you could read it 10 times over at varying levels of experience and knowledge and gain a bunch. Reading it a second time was invaluable.
It was just good to re-ground in the principles of investing but also within the chaotic market environment we've had.
Reminiscences of a Stock Market Operator tells the tale of a stock market operator in the early days. Where people would go to bucket shops, and trade stocks based off the stock ticker coming through. The story is entertaining but also shares a lot of lessons, relevant to investing but more to the mindset and beliefs behind achieving something and the pitfalls on the journey. So its not just for investors its for anyone. I'd mark this as a reread.
The original James Bond books by Ian Fleming, I read all of these at the start of the year, you've picked up bits and pieces from the movies but they are really enjoyable on their own.
This was paired with Desmond Bagley, which is post-WWII adventure type stories, told by a journalist who travelled the world at the time.
I'd recommend all, its been nice to read a BUNCH of fiction for a stretch.
Rugby & Parrot
Last year I joined the board of Rugby United New York, New York's franchise in Major League Rugby. Which was part of a one year journey of re-discovering the calibre of rugby in the US, mapping out its potential and getting involved. In most of the world, rugby as a sport isn't growing but here it is. Did you know the US has just as many players as France?!
Here is a preview from their recent win agains the previously unbeaten LA Giltinis
And growing a team is very much like a startup or content. So surprisingly key pillars of its success line up with my prior experience. I'm still learning a bunch. A real treat is watching a game beside a pro who catches a million times more detail in the ebbs and flows of the game than a commentator does.
I also joined the board of Parrot Analytics, this is a company I invested in 8 or so years ago. And along the way have helped recruit board members, investors, support to the team and market leads where I can. When I invested I had no idea how their trajectory and my own would line up. I was agency-side then but now am software side. They've been making waves in the streaming industry by measuring demand for shows.
In the past I have defaulted to no for any board positions, erring to focus on key efforts. Typically I'd pass up on one to two a year. But I changed my stance for these two, given the excitement, opportunity to learn and also to share from my own experience.

(As an aside, I also a few years back went, to lead with fun, if having fun on projects, the rest will follow, both of these are fun long term projects to be involved with).
It's also refreshing to be presented with completely different challenges and problems. Plus the people you get to meet are always good/fun/new.
Things that also excite me–
The no-code movement
There is a whole trend around creating applications (or apps) without code. This is universal across software and lowers the level to produce an idea. This has been fun, re-learning and playing with all the tools but figuring out how to bring them in or their philosophies in to our own software.

Some notables I liked are AppSheet, Bubble, Obviously & Sagemaker (for AI) but also check out WebFlow.


Getting back in to watching sports (and podcasts)
I've also got back more in to watching rugby, formula 1 and my huge backlog of podcasts. Prior I had been doing more audio books on Audible.
I've been listening to RadioLab, Dan Carlin Hardcore History, Kevin Roses DeFi and Shipworm (a podcast/audio production).


The pace of my own writing
I've been experimenting with doing more long form pieces, where I get to dive in to a topic, in the past year I've written on these: Does Google even need us? The first time Apple built a search engine (and what are they building now)? NFTs & Content, Shenanigans in F1, the Origin of the Newsletter.
My process is to go loose on researching, pasting all my links in a google doc. Often I put in a bunch of questions I want to answer – What are NFTS? Why should I care? etc. Then coming back in another session, reading all of the articles, copy/pasting the best bits or soundbites or thoughts. Then in another session going through and writing. Then another session for editing, then editing in-situ.
I've had mixed success with these, but the act of doing them has helped in other areas too. Readers of my blog may not know that my Nudge newsletter goes out each week with a little blurb too, worth a read.
Investments
As you may have gathered, this is an area I've been working hard to upskill on the last few years. I've tended to shift from angel investments to investments in private companies where I can spend more time or be more active in adding value. Either directly or through people I can get in there.

I also did my first, buying employee stock, in a soon to be listed company. The benefit of doing this is you are buying in a more mature (but still high growth) company. The downside is, your potential for upside is limited as you are coming in so late. You also introduce extra risk that they bomb on the public markets.
The other big risk is information-asymmetry, why are employees selling? And this you can explain away, selling down for tax reasons, re-balancing, to help fund vesting, to buy a house etc. Or they could be selling because they don't think they company will go up. In most cases it seems to less of selling their whole position and selling some to get cash.
But the fun thing with that, was going through and finding all the different ways you can buy stock. Again in that process meeting new people and learning a lot.
Re-building my portfolio, as a unit, rather than a series of individual bets. In the past I would make more single stock decisions, i.e. I like this company will back that. Now I've been looking at, setting a portfolio objective and constructing my portfolio around that objective. So it includes high risk, low risk, mix of options, dividend stocks, use of margin. With the idea of the portfolio hitting the objective.
With all the volatility, this has been curious to watch the behaviors of each and how they change in the various conditions. i.e. in March last year, lots of stocks went down, but my bonds went up, enabling me to purchase great stocks cheaper.
Always looking for builders
We're/I am always looking for builders, people that like to build tech/products/businesses/community/content. Either at our companies or the companies involved with. So if you're hunkering for a new challenge – do reach out. Or if you're not looking but just want to grab coffee (virtually or when safe, in person) – lets do it.
Europe, postponed again
We've wanted to do a summer in Europe for the lsat few years, the first year was postponed because of visa, the next because of (yay!) our second daughter arriving and then because of covid. Here's hoping we can next year.
Travel is something I've missed a lot, but have still enjoyed planning trips and have a few mapped out when things get easier. Now that we have kids some trips are a bit more planned out, i.e. they'll enjoy this when they're a bit bigger. But the world is so big and the destination list so long, that's no sacrifice. I really love that sense when you arrive in a new town, you check in to your accommodation and then head out the door, I'm here and ready to explore.