May 11th, 2010
I've had a huge influx of readers this year (awesome!), thanks for coming along you're very much appreciated.
Shining the light briefly (for all my new readers) on my first book The Best Ideas are Free. It's done hugely well, I'm very proud of it, and it delivers a lot of punch for what it is.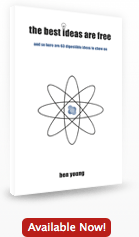 Some of the reviews it's had:
""The best ideas are free, but it's hard to know where to find them. Check out this book! Many of them are collected here." (From Chris Guillebeau of the Art of Nonconformity Blog).
And a few others:
"The wrestle in communication through the user generations is wrapped up and captured perfectly in your book."
"You'll see the online world from a different and fresh perspective. It might even turn it upside down "
"I'm made of rubber! I got that from Chapter Four, where Young says, "There are times when things go sour and all falls apart, you've hit rock bottom. No you haven't. This is just a part of the process of getting to where you need to go, you're made of rubber, so you need to bounce back, harder, faster and higher than before." Absolutely, and I love the visual image of bouncing back."
"The Best Ideas Are Free is the book I credit for driving me to me to create my first blog. Ben is an entrepreneurial and aspirational writer, but what I've most enjoyed in the book is that the "ideas" are practical, fast and simple to implement"
Oh and earlier this year Lee Hopkins said:
"None of these 63 ideas are long-winded. At most each will take two minutes to read, but the value of the ideas comes not from their brevity (or perhaps it does). The ideas are not new, but some are startling in how they make your head 'snap' in recognition of their 'rightness'.
When the pupil is ready the teacher will come, goes the ancient saying. Ben therefore can be quite rightly viewed a teacher of men (and women), a shining light in a wilderness dark with wolves in sheep's clothing."
If you'd like to check it out:
Read it online in your browser.
You can grab a copy off Amazon or off the Kindle Store (it's only a buck on the Kindle).
If you'd like to print it out yourself, you can grab a pdf here (it does cost a few dollars).
Also as a final offer you can order below for $23.99usd/copy.  And I'll ship you a signed copy, anywhere in the world.
(Yes it costs more than Amazon, but hey I'll ship anywhere plus it's signed!)
Just click the button below, follow the process and email me [email protected] if you have any issues.
This is the last time I'll offer the opportunity to buy a signed copy The Best Ideas are Free on the blog, so do so whilst you can.  At the very least read it online, grab it on Kindle, ideas are better shared and spread.
For all my older readers you can expect the next addition in the final quarter of this year.  It's coming along very very well.  I will keep you updated.
Tags: the best ideas are free